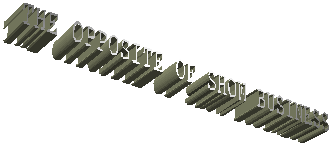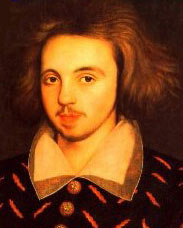 About the play
I was talking to myself again. Madness or vocal expression of unseen written words of an undervalued writer? Another possibility meandered through the stream of thoughts that currently sought to keep their heads above the gin-soaked gutters of my inner brain. Had I written a play inspired by Raymond Chandler?
The tooth fairy suddenly stepped out into the clear light of reality, bringing with her a signed affidavit attesting to the existence of Santa Claus.
Nobody learns to be a writer. They are born, often at an advanced age, fully formed and house-trained. Of course there's a price, there's always a price. I know, because it was happening to me, and now I was being asked to pay. top
FULL-LENGTH FANTASY/HISTORICAL DRAMA FOR 5 -8 ACTORS; (3-5 (m), 2-3 (f)

First performances Izard County, Arkansas (April - May 2005), director Tommy Hancock. Postponed/abandoned.

Reading by professional actors at ScriptTank, May 2006

London performances at The White Bear, July 2006, director Valerie Lucas.

Script-in-hand reading at The Hideaway, June 2009, director Simon Nuckley.

Doesn't becoming a great writer take more than a combination of alcoholism, philandering and getting the boot? Can success in any art be that simple? As Chandler would have put it, "it had the austere simplicity of fiction rather than the tangled woof of fact". What really happened in 1932?

The Real Story Raymond Chandler was dismissed from his oil company executive job in 1932 due to recurring bad behaviour. Then he became a famous pulp-fiction writer, introduced the most moral and complex detective character of page and screen and went on to write scripts for Hitchcock and pen some of the most memorable movies of the film noir genre.
OR: Ray Chandler,plagued by depression, attempts suicide following his wife's death. During his recovery in a sanatorium he confesses to his doctor that the attempt on his life was due to guilt, remorsethat Cissy's illness and his writing career were inextricably linked.



Is Chandler delirious, compelled by his craft to speak in metaphors, or is there some truth to his incredible story?

But why Chandler?

The discovery that Raymond Chandler had been included on GCSE and A Level syllabuses and noting the contrast with the dryer reading lists when I was at school made me wonder if school teachers would now treat The Big Sleep with the same uninspirational combination of high reverence and low enthusiasm that they gave to Shakespeare or Marlowe. And, of course, I am a great admirer or Marlowe; Marlowe the playwright, Marlowe the LA knight errant, Marlowe The Singing Detective of Dennis Potter. top

The Research

This was an interesting chore, in which I read biographies and plays and sought coincidences to justify the inner logic of the plot that was already my starting point. I found enough to convince me that, were I not confident that it was all superstitious nonsense, I might have believed it all, predestination and Faustian pact included, to be true.
The other task was to assimilate enough of Chandler's writing to convey the sense that he may have written it, to find his voice. This was largely accomplished through revisiting the old movies, the same medium by which the majority of my audience would then recognise the literary homage. top

Diary
Mid-June 2004
Decision to write the play. Main theme set.
June/July
Ideas process, research. I had some difficulty in getting help from Dulwich College, my "naked" mail address being mistaken for porn.
AugustÂ
First act completed.
September
Last scene completed.
October
Tidy up. First draft completed. Completion recorded on the website.Â

e production ( body still warm). It was a nightmare putting this together; the organisation was patchy, not least because I had other problems that diverted my energies from production. The miracle was that, given my emotional absence, it went on at all. Even more unbelievable, the acting (after Tuesday) was truly wonderful and the look and smell of the design and direction had the quality of the bubbles from vintage Dom Perignon.Â
I think it was well received, the audiences at the tail end being very appreciative. All the same, the conclusion of the hottest July on record was a bad week to put on a show in a small, air-tight black box. Audiences, even if they liked the play, stayed away in droves and could be forgiven for not being able to recommend the overall experience; not so much a drama, more like a side show in a sauna bath. All the same, one kind soul gave this flatteringly enigmatic comment,

"Clever, witty dialogue". "As if Tom Stoppard had written for The Two Ronnies" Review.
NORTH LONDON ACTORS, script-in hand reading, June 2009, The Hideaway.


Alistair FindlayÂ
Raymond Chandler
Lavinia Keely
HelenaÂ
Simon Foster
Doctor

Jenny Patrick
Cissy Chandler
David Sayers
Memphis Stowe
James Price
Ned Alleyn
Gareth Cooper
Kit Marlowe
Vanessa Curtis
Kate SmithÂ

director Simon Nuckley
Sound - Michael Murray
Thanks to Gareth Pilkington for organising the performance, rehearsal facilities and for everything else.
CAST

JON CAMPLING (Ray)

Mr Campling`s theatrical reflexitude embraces the gamut of human emotion, from the Pavlovian suffering of Little Alex (A Clockwork Orange) to the Unhinged flummery of Capt. Beverly Houghton-Twist (Of Good Report), whilst his filmic cavortations as The Sadist (Penetration Angst), and The Guard (Monad) brought the wincing clarity of a cold vinegar purge to our otherwise opaque lives.

For further ponditudary visit www.cvandphoto.com.Â

BELINDA BLANCHARD (Cissy)

Belinda started her career being in nearly every show during five years as a member of the Royal Court Youth Theatre, working with the likes of Danny Boyle and Declan Donnellan. She then did seven years of stand up comedy and poetry, and as an actress has worked in films, television, theatre and radio and was also a rock station DJ before getting fired for playing XTC all day.  She has never been in The Bill or Casualty. In 2000 she was part of the first intake of writers to gain an MA in Television Scriptwriting at de Montfort University, LeicesBEter, and has had a play produced at Battersea Arts Centre. Just open the link www.belindablanchard.com: it's all there.

RYAN WILSON (Memphis)

Ryan was a practicing musician for ten years (also doing theatre during that time) before deciding last year to focus exclusively on acting.

He is about to undertake a diploma in performance this September at the City Literary Institute.

He thinks that this is the third Play by Jim Grover (including Glass Hero in Edinburgh and The White Bear, Provenance Helpline at RA) which he has appeared in but he is discalculaic; so take that figure with a pinch of salt. If you wish to know more, buy Ryan a beer and he'll tell you what you want to know. (and a fair few things that you probably don't)


RALF COLLIE (Doctor/ Marlowe)

Theatre includes Cloning Adam (Baron's Court Theatre), The Parable of the Blind (Brixton Shaw Theatre), Small Talk (International 3 Manchester) and numerous Shakespearian roles.
Screen credits include Getting Even! (Paramount TV), Shot at Dawn (Carlton TV), Absolute Cobblers! (Challenge TV), How to be a Little S*d (BBC), and the acclaimed British feature film Sexy Beast.
Audio includes Fred's Cafe (BBC Arts) and Dr. Faustus-The Complete Text (LSM)
Ralf is a founder member and co-director of acclaimed production company Lord Strange's Men, with whom he has played Bottom in A Midsummer Night's Dream (Greenwich Park) and the title role in Dr. Faustus (Rosemary Branch Theatre). The company has recently recorded a full-cast production of Dr. Faustus due for release as an audio CD shortly, in which Ralf plays the role of Wagner. For details visit www.lordstrangesmen.com.

CLAIRE-LOUISE ENGLISH (Helena/Kate)

Clare-Louise trained at LAMDA. Theatre credits include, Trinculo in The Tempest (Brockley Jack Theatre), Kim in the two-hander Essex Girls, Juliet in Measure For Measure (Theatro Technis) and Nashif in The Fig Tree (Soho Theatre).
 She has appeared in many short films and recently worked on the feature "Confetti". Clare also played the lead in the BBC Radio 4 play The Dead House at Para.
 Clare-Louise has recently taken over the running of Stand Up Drama, London Bites.

NEILL HOSKINS (Ned)

Originally from Dorset Neill came to London to attend the Bridge Theatre training Company. Recent work includes The Prodigal End at the Pleasance studio, and Creative Prisons, a drama documentary.

Neill is delighted to be playing Ned Alleyn and looking forward to some bear-baiting after the show.

 DIRECTOR

VALERIE KANEKO LUCAS (director)

Valerie trained at the Sherman Theatre Cardiff, and has designed and directed new writing in the USA, U.K. and Europe. She is currently Director of Outreach and Assistant Professor of Acting and Directing at the Theatre Department of the Ohio State University. She directed JimGrover's Oil Paint Does Not Wash Out and Provenance Helpline at the Etcetera Theatre London.

PLAYWRIGHT

JIM GROVER (playwright).

He is just a writer who trained as a musician. He pioneered the "write-on-line" technique on https://nakedtheatre.co.uk and has formerly enjoyed audiences up to 50,000 per week through the on-line Haiku Headlines.
His performed works include Provenance Helpline and Oil Paint Does Not Wash Out (both directed by Dr Valerie Kaneko Lucas) and Glass Hero (Edinburgh and The White Bear). Provenance Helpline was revived at the request of RA for their Rembrandt's Women exhibition and Jim appeared prominently in the ITV London's Scariest Mysteries episode featuring the historical "cash for honours" characters from Glass Hero. His other works have played in London fringe theatres and the shorts Angel Hair and Pictures in Babcia's Head have been used by students in England and Wales for their practical finals pieces.

Real characters portrayed or

n unconventional in her youth - some have suggested that the combination of nude photographic modelling and opiates enjoyed by Carmen Sternwood (The Big Sleep) was modelled on Cissy's own New York exploits. Chandler was her third husband and, in a twist on Oedipus, they did not actually marry until after the death of Raymond's mother. She was diagnosed with brittle asthma in 1932.

Â
The inquest on his death, discovered only in 1925 and claiming that he died of knife wounds from a pub brawl in Deptford, is openly disputed by many Marlovian scholars.Â

William Shakespeare was born in Stratford upon Avon in 1564. Assuming that the Bard of Avon was actually the author of the plays that bear his name, his career lasted some 24 years. There are many alternative theories, not least the Marlovian Conspiracy, that suggests (among other things) that Marlowe escaped after his initial arrest to Italy and either wrote or co-authored Shakespeare's plays.

Edward Alleyn, born in 1566, was the principle actor in Lord Strange's Men, the company set up by Ferdinado Stanley to sponsor Marlowe's plays. His most famous role was that of Doctor Faustus. Â
Around the time of Marlowe's death or disappearance, Ned married and went into partnership with his father-in-law. The business assets included the Southwark Rose and Fortune theatres , bear and cock pits, pl

easure gardens, bars and brothels.
He founded the College of God's Gift at Dulwich (Dulwich College) in 1619.

Dr Johann Georg Faust really existed. He was born in Wurttemburg in (approx) 1480, studied at Krakow and was known to Martin Luthor. His rumoured practice of magic and the supposed Faustian contract have inspired writers from Marlowe to Goethe and up to the present day.
Stage play, THE OPPOSITE OF SHOW BUSINESS, © 2004

On line programme dedicated to Edinburgh International Internet Festival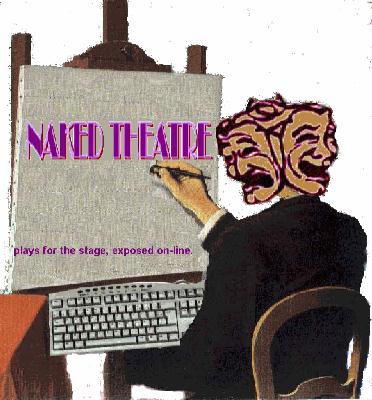 PICTURES IN YOUR DREAMS
BOOKS UNWRITTEN -Â REVIEWS PUBLISHED
CONTACT HOME

top